So today I decided a few things. Firstly, I decided to start a new journal. Secondly, I decided that once I had a new journal I would find myself some penpals. And here I am.

I love getting mail, something addressed to me arriving in my letterbox never fails to bring a smile to my face, and writting letters to people across the other side of the world never fails to bore me. Click on the cut for a proper intoduction and a photo.


The Essentials
Name: Emma
Age: 17... 18 on April 26!
Orientation: Lesbian
Location: Auckland, New Zealand

Other Information
I have a girlfriend called Natelea, it was our 8-month anniversary yesterday and I am very much in love. I adore photography, and try my very best to ignore the fact that I'm really not all that good at it. I have a weird obsession for sticker photos, and theres nothing I would rather do when it's raining than lay in bed with my girl watching The L Word. Candles, incensce and bubbles are wonderful, and Bic Runga is beautiful music to cry to. I am bipolar but am rather stable now, and I believe in pride. I run a Gay Straight Alliance called Aware at my highschool, and am active in trying to make my school safer for queer students. I am crafty and I adore sewing, this year I am making my own ball dress. I listen to all sorts of music including Brooke Fraser, Bic Runga, Incubus, Lacuna Coil, The Dresden Dolls, The White Stripes, A Perfect Circle and Joss Stone. I love to dream, and I want to travel the world. Oneday I want children, and next year I am going to university to train to be a teacher.

Below is a photo of me on ball night with Natelea. I'm the one on the right.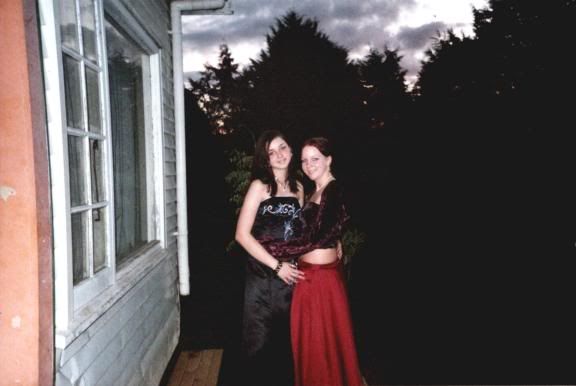 And a sticker photo of Natelea, our friend George, and me...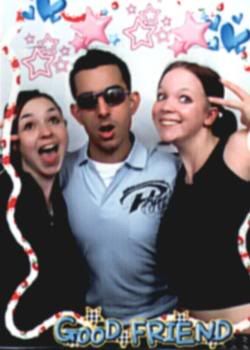 Anyway, that's me. I hope to get to know some of you soon. Leave me a comment or email me at s1l3ntscr3ams@gmail.com

So now I am here, I thought I'd start a bit of a discussion topic... How many of you are Out, and what was it like for you coming out?

xx Me